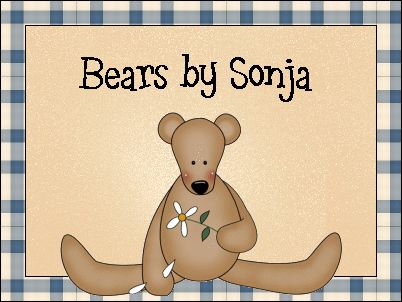 Please check out my blog page at: http://bearsbysonja.blogspot.com
I started collecting Teddy Bears (Hermann and Steiff) years ago, when one day the fall of 2005, I got the urge to make one of my own. After buying some German Mohair, wooden arm & leg joints, glass eyes and some threads, away I went - 32 hours later I created my first bear - Spearmint. Living in the beautiful Ohio countryside and being raised on a farm, I learned how to sew at a young age from my mother and from being a member of a 4-H club. What a pleasure to revisit my old talents.
Since I retired from the military the summer of 2007 after 29 years of service, I am now concentrating my efforts on making beautiful teddy bears. Everything is sewed by hand and sewing machine and each bear is stuffed with lots of care. All my bears are made with the best German or English Mohairs. They are never made in a hurry, so they are very well hand crafted. In October 2007, I was fortunate enough to attend the famous teddy bear artist (Michelle Lamb's), teddy bear sculpting class in Schaumburg, IL that took place during the 25th Teddy Bear and Friends Magazine Celebration! In Dec 2007 I also took a teddy bear class from the famous artist, Isabella Hoffman who designs bears for Clemenson Teddy Bear Co. in Germany. Working with these great artists has enabled me to perfect my teddy bear making skills.

I live in the Ohio Valley with my husband, two cats, two sweet Bernese Mountain Dogs and a Paint Horse. I love the outdoors, animals, family and of course teddy bears.

Also, I am grateful that one of my bears were pictured in the April 2007 Teddy Bear and Friends "Teddy Bear Face Book" which featured 568 Teddy Bears around the world.
If you would like to see more pictures of a particular bear, or place an order, please contact me for availability at
ob1shiloh@aol.com
. Please leave your full name, address, e-mail and phone number. I will get back to you as soon as I can.
Thank you for looking! I would love hearing from you!!